Biggest endorsement Deal In Africa closed by wizkid Last Night
Wizkid has revealed he just signed the biggest endorsement deal in African music.
The Starboy who has been in the United Kingdom for over a month returned to Lagos yesterday and left almost immediately after finishing up what he came to do.
The singer was seen in a video set with, Dagogo Records artiste; Soft and this made many people believe he came to Lagos because of the video shoot.
However a different twist came to the story of why Wizkid came to Lagos yesterday when he posted on his Instagram story this morning that he just closed the biggest deal in Africa.
He wrote; "We just closed the biggest deal in Africa."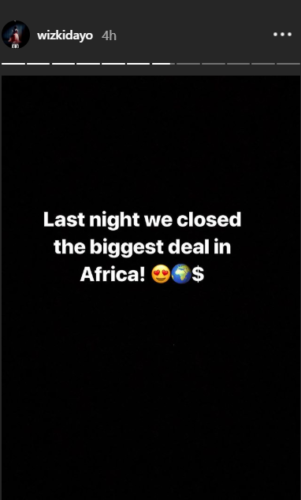 We don't know what the deal is, but we are sending our congratulations to the Starboy in advance.